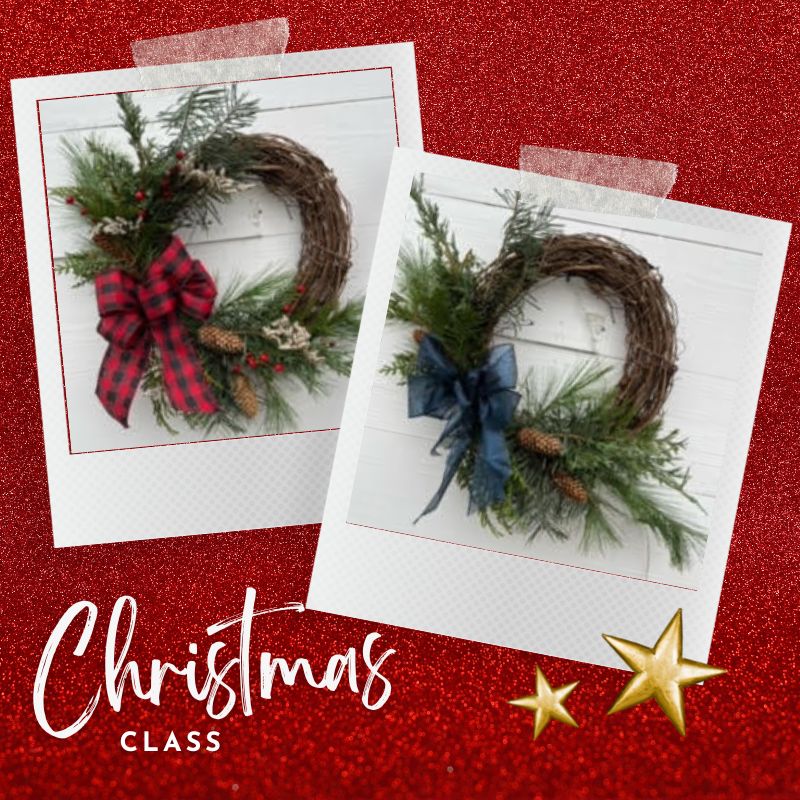 Christmas Class
Registration includes 2 tickets.
For the first time ever, we are offering a Christmas dinner event to make your own wreath!
Enjoy an evening out and sample the latest Shores Sisters offerings served up in a delicious meal. After dinner, enjoy making your own wreath from a 14″ grapevine base, greens and berries.
Finish the evening with a make-your-own seasoned rub station and a sampling of our seasonal cupcakes made fresh in our bakery.
Enjoy late-night shopping and browse the Christmas inventory in the greenhouse.
All tickets are sold in sets of 2, and includes everything for the evening – All craft supplies, food, drinks, tips and take homes are included.. All tickets are non-refundable and unable to be changed. Menu adjustments are also unable to be made at this time. We usually start serving dinner right at 6 pm.
Menu
Starter:
Individual Charcuterie box
Meal: 
Pork tenderloin with a homemade seasoned rub and cranberry chutney
Garlic rosemary mashed potatoes
Roasted Vegetables
Dessert: Shores Sisters Cupcake sampler
Disclaimer:
Please note that due to planning, and the demand for classes, we are unable to offer any refunds or exchanges on class tickets. You can gift or sell tickets to another party if your plans change, but please take notice that we are unable and will not be able to do that for you. Tickets usually sell out very fast, and we do not take a waiting list or offer last minute ticket sales.
Also, due to kitchen space and staffing, we are unable to accommodate any menu changes. The menu is listed above in the description and will include gluten and dairy allergens and also be prepared in the same kitchen as shellfish, dairy, gluten, soy, nuts, and peanut products.
Tickets are sold in sets of 2, so when you purchase one set, you are purchasing everything you need for two guests to enjoy the evening- two meals, two large take homes, and two small take homes. Drinks, dessert and tip are also included. Sales tax will be added when you check out.
Thanks for understanding our policies as we try to serve you the best we can and make this a truly unique and smooth experience for all.