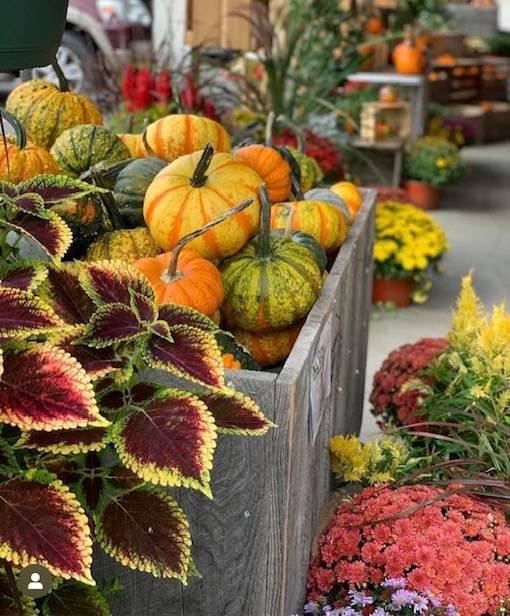 Autumn Harvest Class
Registration includes 2 tickets.
Join us for another evening of fall fun! Our autumn harvest class is back and will consist of a full meal made with seasonal ingredients, make your own fall planter station, as well as make-our-own autumn hand scrub.
The meal is centered around the flavors of the season and will give you new, fresh ideas on how to use different kinds of squash and other local seasonal ingredients found in Northeast PA in the fall. 
All tickets are sold in sets of 2, and includes everything for the evening- meal, dessert, drinks, and all craft supplies. All tickets are non-refundable and unable to be changed. Menu adjustments are also unable to be made at this time. We usually start serving dinner right at 6 pm.
Menu:
Harvest flatbread pizza with pulled pork, roasted squash, kale and caramelized onions.
Seasonal Salad with pumpkin seeds, apples, and roasted butternut.
Pumpkin Lasagna with spinach
Homemade Garlic knot
Pumpkin crips and locally made ice-cream.
Fall punch and locally roasted coffee.
Disclaimer:
Please note that due to planning, and the demand for classes, we are unable to offer any refunds or exchanges on class tickets. You can gift or sell tickets to another party if your plans change, but please take notice that we are unable and will not be able to do that for you. Tickets usually sell out very fast, and we do not take a waiting list or offer last minute ticket sales.
Also, due to kitchen space and staffing, we are unable to accommodate any menu changes. The menu is listed above in the description and will include gluten and dairy allergens and also be prepared in the same kitchen as shellfish, dairy, gluten, soy, nuts, and peanut products.
Tickets are sold in sets of 2, so when you purchase one set, you are purchasing everything you need for two guests to enjoy the evening- two meals, two large take homes, and two small take homes. Drinks, dessert and tip are also included. Sales tax will be added when you check out.
Thanks for understanding our policies as we try to serve you the best we can and make this a truly unique and smooth experience for all.