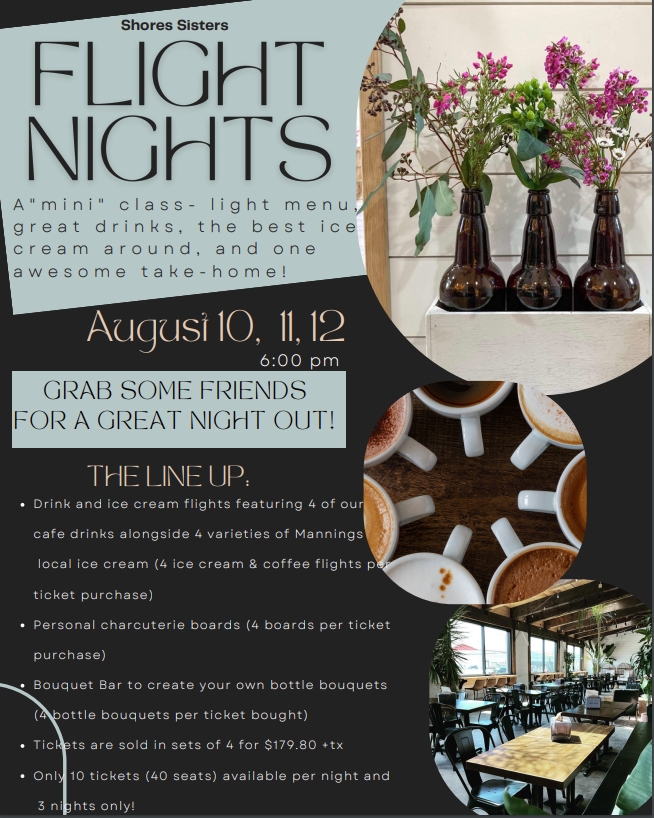 Flight Nights
Registration includes 4 tickets.
A "mini" class!
Light menu, great drinks, the best ice cream around, and one awesome take-home!
Date & Time
6:00 PM – August 10th, 11th & 12th
→ Drink and ice cream flights featuring 4 of our cafe drinks alongside 4 varieties of Mannings local ice cream (4 ice cream & coffee flights per ticket purchase)
→ Personal charcuterie boards for snacking (4 boards per ticket purchase)
→ Bouquet Bar to create your own bottle bouquets (4 bottle bouquets per ticket bought)
→ Tickets are sold in sets of 4 for $179.80 +tx
→ Only 10 tickets (40 seats) available per night and 3 nights only!
 Grab some friends for a great night out!
Disclaimer:
Please note that due to planning, and the demand for classes, we are unable to offer any refunds or exchanges on class tickets. You can gift or sell tickets to another party if your plans change, but please take notice that we are unable and will not be able to do that for you. Tickets usually sell out very fast, and we do not take a waiting list or offer last minute ticket sales.
Also, due to kitchen space and staffing, we are unable to accommodate any menu changes. The menu is listed above in the description and will include gluten and dairy allergens and also be prepared in the same kitchen as shellfish, dairy, gluten, soy, nuts, and peanut products.
Tickets are sold in sets of 4, so when you purchase one set, you are purchasing everything you need for four guests to enjoy the evening.
Thanks for understanding our policies as we try to serve you the best we can and make this a truly unique and smooth experience for all.